Strawberry-Rosemary Vodka Marinated Flank Steak
Rosemary has been shown to improve cognitive performance and memory. Pairing it with fresh strawberries makes this steak unforgettable!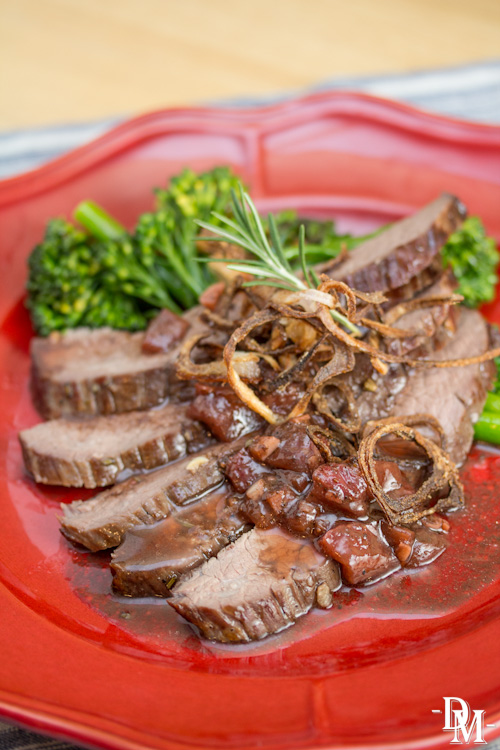 GET IT
1 1/2 – 2 pound flank steak
3/4 cup strawberry-rosemary vodka
1 tablespoon low sodium soy sauce
1 tablespoon light brown sugar, packed
1 tablespoon balsamic vinegar
2 tablespoons extra-virgin olive oil
1 teaspoon Worcestershire sauce
2 cloves garlic, minced
kosher salt and freshly cracked black pepper, to taste
1/2 teaspoon fresh rosemary, finely chopped, plus sprigs for garnish
1/2 cup strawberries, stems removed and berries roughly chopped
1/3 cup flour, well seasoned with kosher salt and freshly cracked black pepper
1 teaspoon cornstarch
1/2 teaspoon garlic powder
1 shallot, very thinly sliced
Vegetable oil
MAKE IT
Place steak in a gallon-sized zip-top bag. In a medium bowl, mix together the marinade ingredients (vodka through chopped rosemary) and pour into the bag with the steak. Seal well and turn it around a few times to coat the steak. Let marinate, refrigerated, for 2 hours, flipping the bag over after 1 hour.
Preheat broiler to high. Place steak on a broiler pan, reserving marinade. Broil steak for 7 minutes per side, or until it is cooked to your desired degree of doneness. Let rest on a cutting board for 10 minutes before thinly slicing the steak against the grain.
While steak is cooking, pour reserved marinade into a small saucepan. Add diced strawberries. Bring to a boil and then reduce heat to medium and let it cook and reduce until it thickens into a nice sauce.
For the crispy shallots: preheat a large nonstick skillet over medium-high heat. Coat the bottom with a thin layer of vegetable oil. On a plate, mix cornstarch and garlic powder into seasoned flour. Toss sliced shallots in the mixture to coat. Remove the shallots, shaking off excess flour, and drop into the oil. Fry until golden brown all over, turning to ensure even cooking. Remove to a paper towel lined plate to remove excess oil.
To serve, place several slices of steak on each plate. Top with a generous ladle of the reduced strawberry-rosemary vodka sauce. Place some crispy shallots and a rosemary sprig on top.
Serves 3-4, depending on the size of your steak (and appetites!).
ENJOY IT!