Thai Peanut Noodles
Noodles don't need to weigh you down! Crisp cucumber and and tangy onion combine with sweet ginger-lime syrup in this light noodle dish.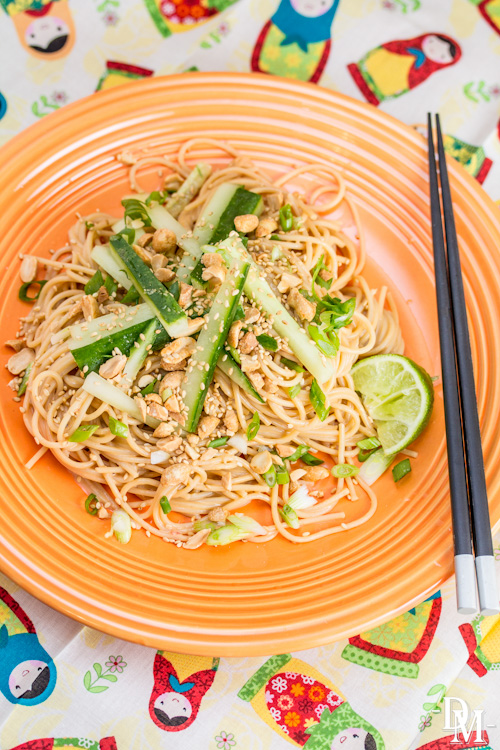 GET IT
1 pound soba noodles or whole grain spaghetti
For the sauce:
1/2 cup creamy peanut butter
2 tablespoons ginger-lime syrup
1 tablespoon lime juice
1 tablespoon hoisin sauce
1 tablespoon low sodium soy sauce
1 clove garlic, minced
2 teaspoons chile garlic sauce
1 teaspoon tomato paste
1 teaspoon toasted sesame oil
1/2 teaspoon salt
4 tablespoons pasta water (or more, to reach desired consistency)
To serve:
2 cups English cucumber, chopped
5 green onions, chopped
2 tablespoons toasted sesame seeds
4 tablespoons dry roasted peanuts, chopped
Lime wedges
Cilantro leaves, optional
Sriracha sauce, optional
MAKE IT
Cook pasta according to package directions, reserving some of the pasta water to thin the peanut sauce.
In a small bowl, whisk together sauce ingredients. Add the pasta water 1 Tablespoon at a time, until the sauce reaches a good, creamy consistency.
Drain the pasta and rinse the noodles with cold water to stop the cooking process and cool them off a bit. Don't worry about draining them too well, the water will help thin out the sauce. Toss pasta with the sauce and place onto serving dishes. Top each pile of pasta with cucumber, green onions, sesame seeds and peanuts. Squeeze a lime wedge over the top of each dish and serve. For more heat, add a nice drizzle of Sriracha on top. Leftovers are great straight out of the fridge.
ENJOY IT!
Serves four.